Art Files Tech Resources
Answers to Frequently Asked Questions and Support for Large Scale Deployments
I'd like to add users to my existing multi-user license. Can I extend the same serial number?
Yes! We can roll multiple purchases into a single, multi-user serial number. Just purchase the additional number of users you'll need and then contact support for help.
Where are license files stored?
License files are stored in the following path within either the Local (preferred) or User domains:
Library/Application Support/Code Line/Art Files/Art Files 2.license
Art Files always prefers to save licenses and read licenses from the Local domain and falls-back to the User domain. The license is created when a user enters their serial number from within the application. The actual domain the license is installed on depends on the OS and the user's permissions.
Please note: This file is created once you've launched the application and entered the serial number. License information is accessed via "License…" menu from "Art Files" in the menu bar.

What files need to be installed on user's systems to run a licensed version of Art Files?
You'll only need to install the application itself and the license file. The files are listed below:
/Applications/Art Files.app

/Library/Application Support/Code Line/Art Files/Art Files 2.license
Here's an example of what a PackageMaker window for installing Art Files and its registration file.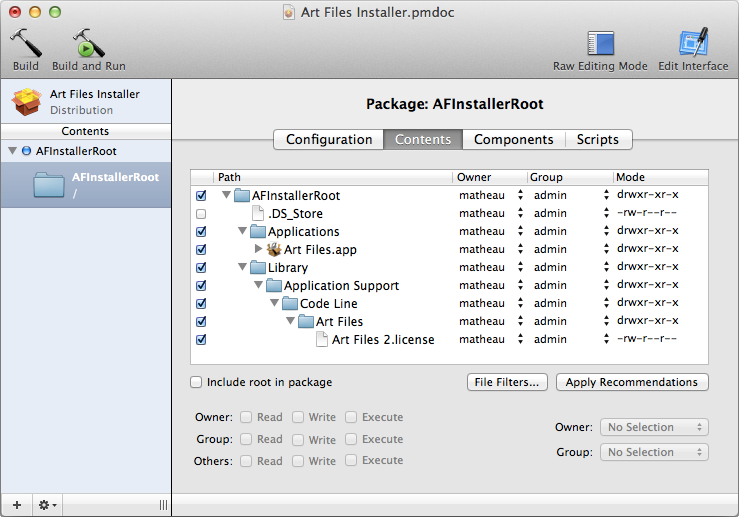 If you don't have PackageMaker installed on your system, you can download a copy from Apple's developer site here. Search for "Auxilary Tools for Xcode". The latest version we found that contained PackageMaker is Late July 2012. Access to this download site requires a developer account with Apple.
Is Art Files 1 compatible with the latest versions of Creative Suite and/or Creative Cloud?
Art Files 1 is compatible with Adobe Illustrator versions 8 through CS4.
You can learn more about Art Files' compatibility with Adobe Illustrator on our compatibility chart.
Can I upgrade my existing license(s) to Art Files 2?
You can purchase an update from our online store for a reduced price.
Make sure to have your Art Files 1 serial number ready to make your purchase. If you have a truncated serial number ending in 6 Xs, you can use it as-is with our online store. To find your current Art Files serial number, launch Art Files and select "License" from the "Art Files" menu in the menu bar.